Pond Sealer - Bentonite
Bentonite for Ponds
To properly apply bentonite as a pond seal, the pond must be drained and the bentonite clay then incorporated into the soil of the pond bottom and sides.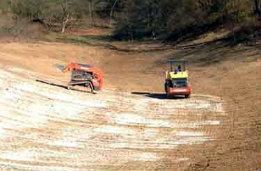 The application rate for bentonite ranges from 2 pounds to more than 6 pounds per square foot depending on the soil characteristics. For clay soils, 2 pounds per square foot may be sufficient. For sandy loam soils 4 pounds may be sufficient and for soil containing gravel and rock, in excess of 5 pounds will be required to create a seal. Once the bentonite is applied, the soil should be disk harrowed or tilled to mix the soil and bentonite and then compacted using a pad-foot roller or similar high ground pressure compaction equipment. Detailed Bentonite Clay for Ponds Application Instructions and Application Rate Tables
Alternatively, a continuous blanket of bentonite can be applied to the soil and then carefully covered with clean soil or sand to prevent the clay from mobilizing into the water column. Placing the bentonite in a confined layer is far more effective because it forces the clay into adjacent soil pores creating a more effective seal.
We do not recommend applying bentonite through standing water. However, Soilfloc a 2-part polymer pond sealer, is very effective when applied through water.
Granular Sodium Bentonite Clay can also be used to seal around outlet pipes, dock piers, and other penetrations. Bentonite FAQ