Pond Restoration
Pond Restoration Services
Do you remember how amazing your pond was years ago? Reclaim that memory and create the water body that will be the focal point of your property!
Over time decaying vegetation, sediment, and debris build up in your pond or lake bottom creating a recipe for disaster - algae blooms, poor fish habitat, aquatic weeds, murky water, and potentially toxic water chemistry.
Removing this organic sludge is essential to restoring the proper function and water quality of your water body. Once the accumulated sludge is removed, new natural products are available to prevent additional muck accumulation.
A complete pond restoration will TRANSFORM your pond into an incredible body of water that becomes the focal point of your property!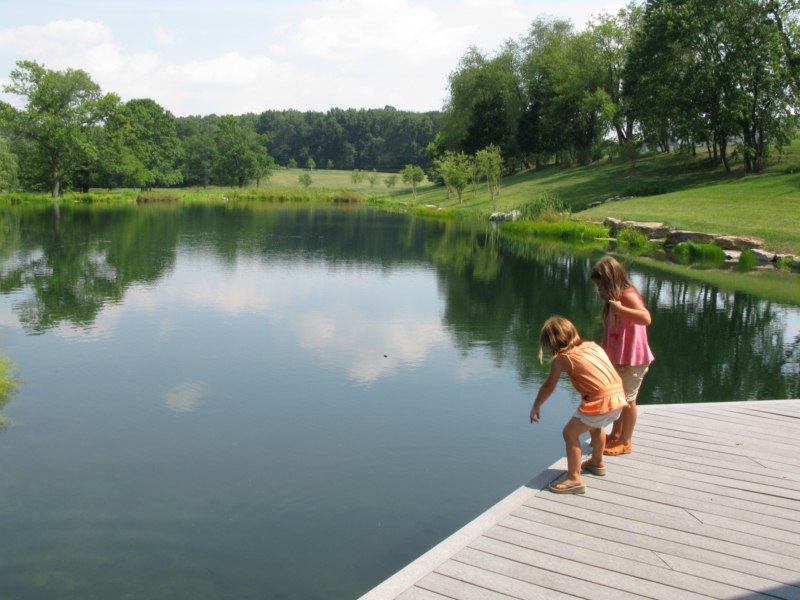 Take the next step with a detailed, professional evaluation of your restoration options.
Imagine the joy that your restored water body will bring. Experience an unbelievable array of wildlife. From songbirds to waterfowl and interesting wading birds, the pond and wetland environment is a favorite for winged wildlife. A pond can be renewed with specific fish species in mind as well - support trout populations, largemouth bass, perch, crappie, sunfish, blue gills and other game fish.
Many ponds with little or no summer-time flow benefit from the addition of a stunning waterfall or aeration system.
Our constructed waterfalls are designed and built like no other. Unique methods are used to create an environment where natural aquatic organisms thrive. This aquatic life occasionally dislodges from waterfall tumbling into pond where it provides a completely natural food supply for fish life. Your pond now has a completely natural, self-sustaining feeding system which results in healthier, larger fish.
A recent survey of a client's pond showed that stocked 5" rainbow trout had reached a length of over 14" IN JUST 4 MONTHS! WOW!
Recent restoration work featured on WNEP TV's PA Outdoor Life
Featured Pond Restoration Project
Our complete pond restoration process includes:
Initial Evaluation - meet with owner discuss goals and pond uses
Review potential restoration work items
Determine sludge volume and location for disposal
Design any desired pond bottom modifications
Prepare restoration plan including revegetation of pond margins, aeration system, pond bottom modifications if desired, outlet improvements, and optional upgrades (nesting islands, waterfall circulation system, filtration, dock, etc)
Review Restoration Plan with Owner
Dewater pond
Coordinate Construction
Remove organic muck
Monitor pond during re-filling
Monitor water quality and adjust as necessary prior to fish stocking
Install native aquatic plant species on pond margins as desired
Re-stock pond with appropriate fish species
Considering enlarging your pond? We can help. A pond expansion is a logical extension of renewing an existing pond. We will carefully study your existing pond and associated soils to provide you with accurate pond enlargement options.
Complete the Project Application below to see if we can meet your needs.
Providing pond restoration, pond dredging, muck removal, and pond vegetation removal throughout PA, NY, NJ, MD, DE, and OH.